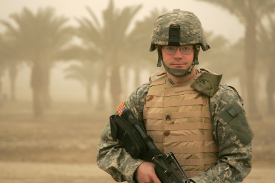 U.S. Military & Government
Field Proven Solutions
The Promia RavenTM systems are proven in military deployments around the world. This includes centralized command Naval Operating Center-based management operations with rugged shipboard deployments robust enough to handle harsh environments.
PROMIA Inc. has successfully participated in US Navy Trident Warrior shipboard exercises. In 2008, Promia RavenTM appliances were installed onboard two small ships connecting to a centralized Naval Operating Center (NOC) monitoring system and successfully detected many attack and policy violation incidents. The results were documented as being one of the most successful technologies during these real-life field exercises.
Advances in Situational Awareness
The Promia Raven TM system provides enterprise-wide threat management, composite security analysis, and centralized control of network security operations, all from a single-point management interface that allows military Naval Operating Center (NOC) personnel to effectively manage the security posture of mission Cyber assets.
Through an integrated combination of secure asset detection and monitoring combined with a highly effective security event management system, the RavenTM system achieves true Cyber situational awareness. Through one of the most advanced 3-D web-enabled interfaces, the RavenTM system provides command and "at a glance" status of all Cyber assets and provides drill down access to asset and security events throughout the enterprise. The RavenTM system complies with and implements the Department of Defense (DOD) 8500.2 IA implementation mandates.
True Unified Threat Management
PROMIA INC. is one of the first companies to provide an operational view of network assets combined with Unified Threat Monitoring (UTM). Threats are detected through active monitoring of networks with the Raven integrated network intrusion detector and support for third party IDS systems. Integrated into the detection process is dynamically updated blacklists of known hostile sources and realtime blocking with the integrated Raven in-line network blocking that can enact blocking as a dynamic response to detected intrusions. It's ability to be deployed in an hierarchical nature is especially beneficial for military and government scenarios where separate, remote staffing is not an option.
The operational objective is to extend the security boundaries beyond the shore infrastructure and provide ships with an intelligent security monitoring and assessment capability. It is now front and center on all of the global large Naval Operating Center (NOC) plasma screens providing them network situational awareness. Promia has been able to demonstrate quantifiable benefits in costs, manpower, productivity and space.